Wide temperature TFT LCD modules from -30°C to +80°C
What happens to the LCD in low temperature?
When we operate LCD display in an extremely low temperature environment, the screen may turn dim or go black and if it left in such conditions for extended periods, which may cause permanent damage to the display.
Image Sticking / Image Retention / Image Persistence
The LCD in cold temperatures may cause misreading because of the response time of LC (physical characteristics). It will turn slowly and make the screen overlap. (Figure 1)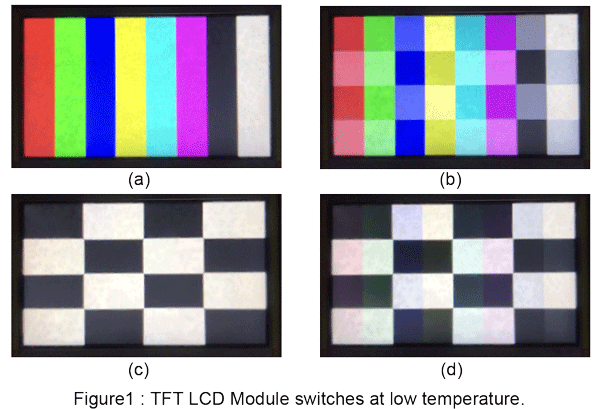 We put TFT LCD Module into the test in an environment of constant temperature and humidity machine and then set the temperature at -40℃.
See Figure1 (a), it shows a stable color screen before switching. Then, it will change to Figure1 (b) after switching. This overlapped situation is due to LC's physical characteristic that it turns slowly at low temperature. After a while, the overlapped screen will become clear; however, you can still see the shadow beneath as Figure 1 (c); Figure 1 (d) is the final result after switching.
Solution to Operate LCD Display in Cold Environments
Wide Temperature Solution
Typically, standard LCD modules provide a temperature range of -20°C to +70°C. To meet the need of customers, NEXT VISION DISPLAY has developed a series of wide temperature TFT LCD modules with operating temperatures ranging from -30°C to +80°C, and the maximum for some models can reach 85°C.
Glass Heater Solution
NEXT VISION DISPLAY developed LCD Heater to integrate with our TFT Display Module so that can show optimal view even in low temperature. For materials, heaters can be used with transparent resins, such as glass and poly-carbonate. Our LCD Transparent Heater is made of glass substrate, so we name it "Glass Heater". It can not only improve the LCD image sticking issue efficiently, but also have heat and humidity resistance advantage.
How does Glass Heater work? (Figure 2)
While directly current flows in ITO's resistance, it will turn electrical energy into heat. The smaller resistance is (the higher consumption power is), the more heat it can generate. The concept is similar to Traveling immersion coil. When we plug in Traveling immersion coil, the current will flow in metal and generate heat to boil water.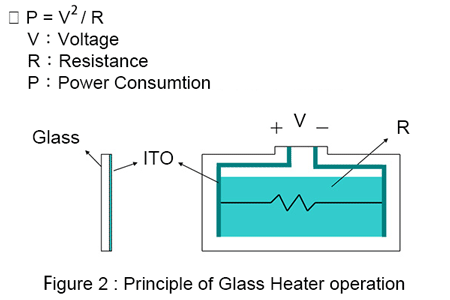 Condition1 : -40℃/ Normal Environment (Table 1)
Table 1: Result of TFT LCD Module at room temperature and -40°C with/without Glass Heater.
As the result, it shows 4.3 inch TFT LCD Module display functionally under normal operating conditions. However, there is an overlapping at low temperature, because of LC's physical characteristics. From this experiment, we know that overlapping can be solved by turning on Glass Heater.
| | | | |
| --- | --- | --- | --- |
| Condition | Normal temperature | -40℃ | -40℃/24H |
| Voltage | – | – | 9V I 12V |
| Switching Result | no overlapping | overlapping | no overlapping |
Condition2 : Voltage in 9V / 12V at -40℃ (Table 2)
Table 2:Result of TFT LCD Module with Glass Heater in 9V/12V at -40°C
It shows that 4.3" TFT Display with Glass Heater in voltage 9V/12V delivers output currents of 600mA and 830mA respectively.
| | |
| --- | --- |
| Condition | -40℃/24H |
| Voltage | 9V | 12V |
| Current | 650mA | 830mA |
Condition 3 : TFT LCD with Glass Heater, 9V/12V power supply, at -40℃
We heat up the Glass Heater and plot the temperature as a function of time. (Figure 4 Heating Curve)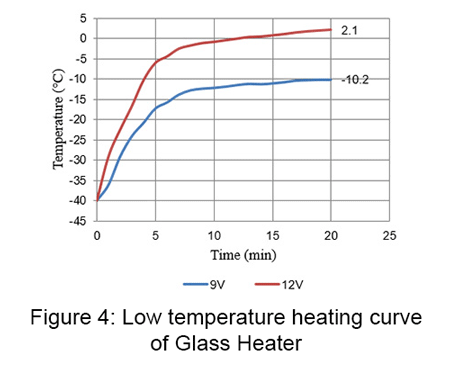 Why NEXT VISION DISPLAY Glass Heater is better than PET Heater?
High Transparency and Efficiency
Comparing to PET Heater (Table 3), NEXT VISION DISPLAY's Glass Heater has higher transparency, better thermal conductivity, heat and humidity resistant and so on.
Table 3 : Comparison between Glass Heater (LCD Transparent Heater)and PET heater.
Type
Glass Heater
Traditional PET Heater
BASE Material
Glass
PET
Price
Low
High
Tooling Charge
Low
High
Transparency
85%Min
90%Typ
75%Min
80%Typ
Thickness
0.4mm~1.1mm
0.2mm
Advantages
Higher transparency.
Lower unit price.
Heat and humidity resistant
Thin and light.
Durable in drop test.
Flexible.
Disadvantages
Weak in drop test compare to PET product.
Lower transparency.
Higher unit price.
Weak in high temperature and humidity.
Integrated with TFT LCD Display
NEXT VISION DISPLAY provide different thickness of Glass Heater from 0.4 mm to 1.1mm and it can easily attach to our TFT LCD Module and IPCT (PCAP). Apart from installing convenient, it is specially designed to assure optimal quality for our clients. Using connector and supply stable current to control TFT LCD Module. (Figure 3)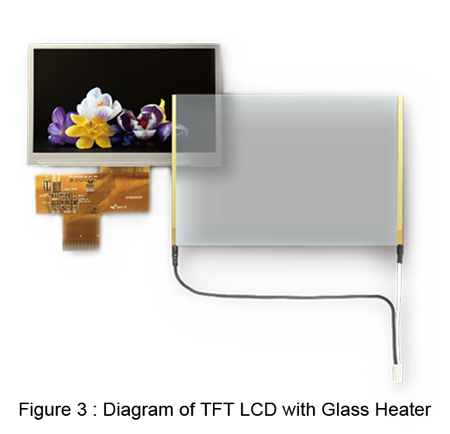 Selecting LCD Display Modules for Extreme Temperatures
In summary, when selecting an LCD display for an extreme temperature environment, the first thing designers need to evaluate is the operating environment: temperature, moisture, and humidity. Additionally, they also need to consider what will be displayed on the screen: display performance, clarity and correct information. With all these factors, it will help select the best display for the application.
However, NEXT VISION DISPLAY Glass Heater is designed to deliver optimum performance in low temperatures in order to accommodate for diverse industrial applications. It also ensure safe operation of display keeping control panels operational in inclement conditions or clearing surfaces of unwanted snow, ice, or condensation. In particular, it is possible to integrate with TFT LCD Display.
Glass Heater Control Solution
It's an ideal solution for TFT display to operate in cold environment. NEXT VISION DISPLAY integrate the TFT LCD module, LCD transparent heater (Glass Heater) and heater sensor to control and monitor temperature smartly. With our controller system, it can precisely control the heater on or off and then rapidly adjust the temperature of TFT-LCD module. Also, it can reduce display power consumption. Moreover, all series of TFT-LCD module can be integrated with heater control board to make it automatic temperature controlled and would not be subjected to its maximum operating temperature range as stated in the specifications.
Block Diagram:TFT LCM+ Glass Heater (Transparent Heater)+ Heater Driving Board
i. TFT LCD Module (TFTLCM with Glass Heater) ii. Heater Driving Board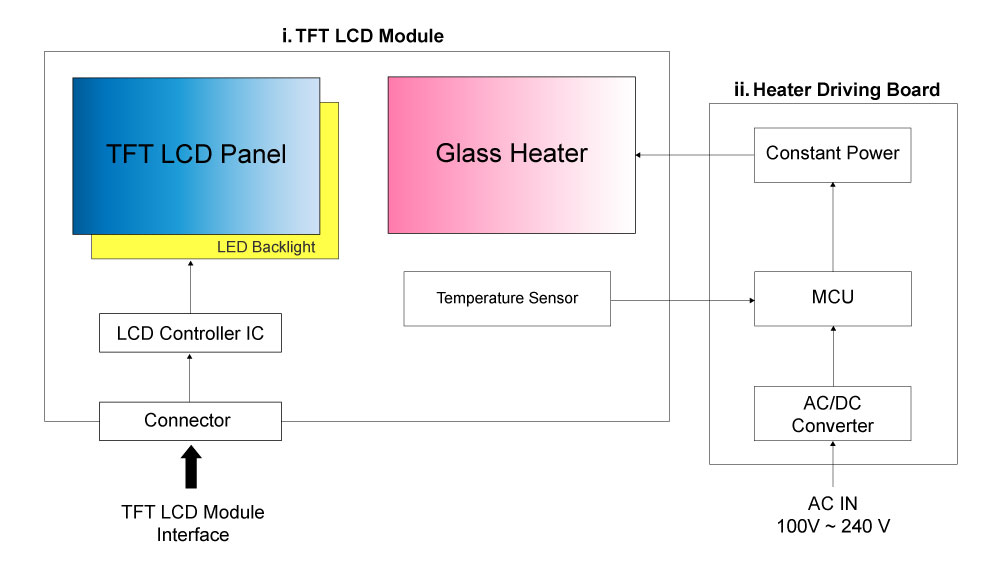 Contact for Custom Transparent LCD Heaters or Glass Heater Panel solutions.
https://www.nextvisiondisplay.com/wp-content/uploads/2021/06/Low-Temp..jpg
764
1140
Elena
https://www.nextvisiondisplay.com/wp-content/uploads/2021/04/nextvisionLogo-2.png
Elena
2021-06-22 12:11:37
2023-10-18 16:54:16
Low Temperature