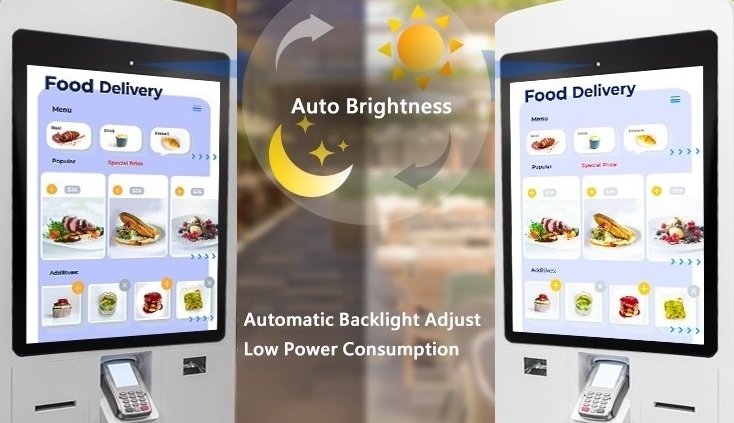 High Brightness / Transflective / Optical Bonding / Surface Treatment
Displays hard to read in bright sunlight
In direct sunlight, outdoor, bright conditions
Most standard TFT display and monitors are rated between 200 and 300 (cd/m²). If it installed indoors, these displays are usually of sufficient brightness to be easily read. But for use in outdoor environment or even direct sunlight, you will find that content on TFT displays with normal brightness is often difficult to read. Reflection is the major reason. It is difficult to read your screen in bright sunlight, as the strong light reflecting off the screen's surface washes out the display.
⋄ The most common brightness for indoor displays: 200 – 300(cd/m²)

⋄ The ideal brightness of LED backlight for outdoor displays : 500 to 1500(cd/m²)
What is Sunlight Readable display technology?
There are many technologies to increase the outdoor viewing ability of an LCD display such as high brightness backlight, transflective LCD, optical bonding and surface treatment. However, each has benefits and drawbacks depending on the specific application.
High Brightness TFT LCD Module
Increasing the brightness is the most common method to improve readability. High Brightness TFT LCD Module features powerful LED backlights, providing the brightness up to 1,000(cd/m²). Typically, LCD brightness of 800 (cd/m²) or higher is considered sunlight readable, but most sunlight readable displays are 1,000(cd/m²). It is possible to change the display brightness by applying more LED backlights without modifying the size or dimensions of the TFT-LCD. However, adding more backlights result in much greater power consumption and shorter battery life. It's not a perfect solution, but it does help improve the visibility in bright condition.

Transflective TFT LCD
The other option to enhance visibility is using Transflective TFT Displays. Transflective is a form of LCD that is able to reflect most of the ambient light allowing it to be visible in bright sunlight without using a backlight. It is one of the most flexible solutions as it allows daylight to pass through with lower power consumption in bright environments and readability in any lighting condition.
LCD Modes: Reflective Type vs. Transflective Type vs. Transmissive Type
⋄ LCD Modes: Reflective Type vs. Transflective Type vs. Transmissive Type

Optical Bonding
Optical bonding decreases light refraction (from both LCD backlight and outside light), thus improves TFT screen's readability. Optical bonding is the process of laminating cover glass or touchscreens to the LCD cell with a layer of resin (Liquid-OCR) or film(Dry-bond process OCA). It enables the connection of the touch sensor, cover glass and display to one unit. One of benefits is to completely fill the air gap and eliminate two reflective surfaces between them.
• Greater durability:It creates an air gap between the LCD cell and the screen glass with air bonding* technology. Full bonding technology filling of the gap prevents this problem from arising and provides high durability for use in factories, or other harsh environments.
*(Air Bonding): During the process of air bonding, the components are bonded to the display by means of a double-sided industrial adhesive.
• Dust & Moisture Protection:Condensation can cause screens to become foggy from moisture that penetrates the air gap. The most obvious benefit of optical bonding technology is that it physically prevents dust and liquid ingress from getting between the glass and LCD.
• Improved contrast ratio: Reducing the light reflections between touchscreen and LCD helps improve the image quality.
• Improved touch experience:A touch panel with optical bonding maintains a more accurate touch response by eliminating air gap between the cover glass and the display.

Surface Treatment
To further improve readability under direct sunlight, Anti-Reflection and Anti-Glare coating can be applied to the surface reducing ambient light reflectance. AR/AG coatings can be applied directly to an LCD or a substrate material such as a protective cover lens or touch sensor.
• AG(Anti-Glare Coating):
This type of treatment is often described as a matte coating that reduces surface reflection on the front of the LCD panel and softens the direct light source. Therefore, it has some impact on contrast and color vibrancy because of the matte surface.
• AR(Anti-Reflection Coating):
AR (anti-reflective) film can reduce unwanted surface reflections caused by ambient light and enable you to see the screen with great clarity.
NEXT VISION DISPLAY Sunlight Readable Technology
Displays are qualified under industrial standard
Optimized Display Performance|Low Power Consumption
⋄ High Bright Backlight Design
As a solution, NEXT VISION DISPLAY Sunlight readable TFT LCD displays are designed to operate in direct sunlight or harsh ambient light conditions. We adjust the design of backlight brightness, enabling to have better performance and extend lifespan of display.
Sunlight readable LCD displays are also known as daylight viewable LCD, outdoor LCD display. Our range of Sunlight Readable displays increasing the brightness of the backlight, generally from 800 to 1000 (cd/m²) or greater make the display much easier to read in outdoor or bright conditions. It's available in various sizes including 3.5", 4.3", 5", 5.7", 7.0" 8.0", 10.1"and 15.0 inch. In addition, we have the ability to design the custom TFT-LCD display based on each customer's requirements such as touch panel(PCAP/RTP) and display interface.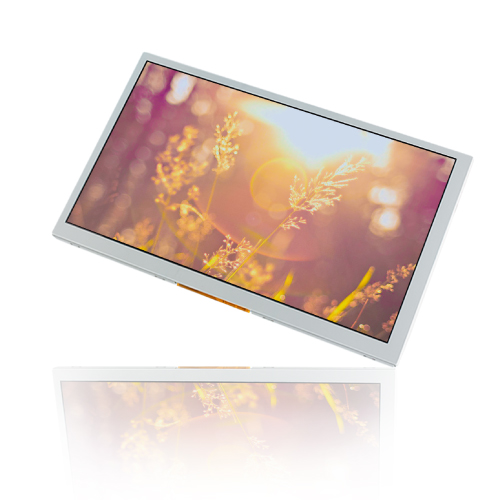 ⋄ Tolerance of temperatures
Our Sunlight Readable (High Brightness) TFT LCD can work at operating temperature -20℃~ +70℃. It is the ideal choice for ourdoor environments or industrial measuring equipment.
⋄ Optical Bonding & (AG / AR )Coating
We offer optical bonding and Anti-Glare (AG) or Anti-Reflective (AR) coating solution to help make the display more readable in outdoor conditions. The benefit of these technologies is expanding the product life time. Picture below shows NEXT VISION DISPLAY TFT-LCD Module with AR/AG Coating: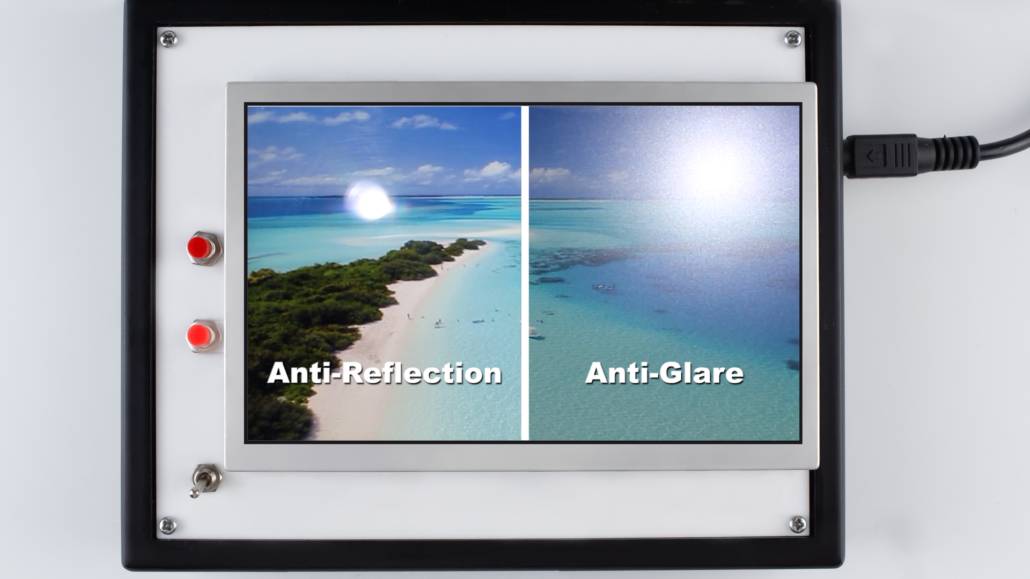 Automatic adjustment of LCD display backlighting
⋄ Ambient Light Sensor(ALS)
There are different technologies available to achieve sunlight readability in environments with very bright light. When it comes to sunlight readable technology, High brightness TFT LCD is a general suggestion on choosing display. However, the disadvantages of a bright backlight are relatively high power consumption and shorter battery life. Basically, the higher you are running the backlight, the more power will be needed which can also consequently result in device overheating and shorten LED's lifespan. NEXT VISION DISPLAY's Ambient Light Adaptive Displays can automatically adjust the backlight brightness of LCD panel based on current ambient lighting conditions. Better dimming control of LCD backlight, resulting in super-efficient energy saving.

Which TFT-LCD is best for sunlight readability?
⋄ Standard TFT Display(Normal Brightness) vs. Sunlight Readable(High Brightness) TFT Display vs. TFT-LCD Module+Ambient Light Sensor
Feature
Standard TFT
(Normal Brightness)
Sunlight Readable TFT
(High Brightness)
Sunlight Readable TFT+ Ambient Light Sensor
Brightness (cd/m2)
Brightness ranging from 300 to 500(cd/m2).
Brightness is generally from 800 to 1000 (cd/m²) or greater. Sunlight Readable TFT displays feature powerful LED backlights, providing a brightness of up to 1,800(cd/m²).
Contrast
★★★In indoor environments, Standard TFT display (Normal Brightness) can provide an excellent image quality.
★★Sunlight Readable TFT LCD should be bright enough under strong sunlight, while the brightness also affects contrast ratio (CR).
★★It can automatically adjust the backlight brightness of LCD display based on current ambient lighting conditions.
Power Consumption
★★In indoor environments, such a display can provide an excellent image quality.
★★High brightness displays result in much greater power consumption and shorter battery life.
★★★Better dimming control of LCD backlight, resulting in super-efficient energy saving.
Sunlight Readability
★It's bright enough whenThe display is hardly visible when the screen under very bright ambient light condition.
★★This TFT series is ideal for outdoor or high ambient light condition.It features great quality sunlight readable image in indoor and outdoor environment
★★★Ambient light adaptive displays provide precise light detection for a wide range of ambient brightness and optimize its glow to suit the ambient light.
Recommend
Standard TFT Display is bright enough for indoor environment.Display with ALS (Ambient Light Sensor) is the solution that is more cost-effective for outdoor application.
For outdoors, brightness up to 1,000 nits is generally recommended.Do not spend too much time watching on screen because it could cause discomfort.
It is an ideal display solution that is viewable in all environments. Besides, adjusted ambient light sensors (ALS) would not affected by covering a Cover Glass (CG).
Outdoor Application Solutions
Outdoor display must withstand extreme temperature climates, moisture, or bright sunlight. NEXT VISION DISPLAY offers custom TFT-LCD modules and complete display solution for outdoor application.
https://www.nextvisiondisplay.com/wp-content/uploads/2021/06/Sunlight-Readable-1.jpg
494
734
Elena
https://www.nextvisiondisplay.com/wp-content/uploads/2021/04/nextvisionLogo-2.png
Elena
2021-06-22 15:45:44
2023-10-18 16:51:10
Sunlight Readable